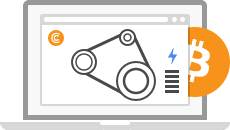 Browser with built-in mining
CryptoTab Browser includes built-in mining algorithm that allows using your computer resources more effectively than in extension format. It boosts your mining speed up to 60 times and increases BTC earnings.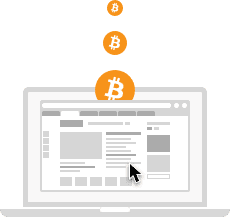 Mine Bitcoins yourself and invite friends so you can earn even more!
As you invite friends, explain that they should regularly use the browser for visiting websites and social networks, watching online videos, etc. Mining speed is higher when the browser window is active. This way, they make more money while your income from your referrals increases, too!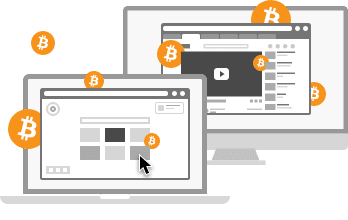 Use CryptoTab as your default browser to maximize your revenue
Mining speed increases when your browser is active. Use CryptoTab browser for your everyday activities, visit your favorite sites, watch movies online, and take advantage of maximum mining power.
CryptoTab browser utilizes processor resources more efficiently when the browser window is active. This way, you can make more money.
Check the reviews from CryptoTab Browser users
Brief explanation video about CryptoTab
Watch this short promo video to understand more about how CryptoTab works
2-in-1 solution, surf the web and earn at the same time
Sync data across all of your devices
High-speed built-in mining algorithm
10-level referral system
Easy withdrawal to a BTC wallet at any time
Develop your mining network to get more than 1 BTC!
Start right away!
Invite as many new users as you can. You will receive a percentage from the earnings of all users who joined using your personal link.

Share your personal link

People follow your link and install the CryptoTab browser

They start to use CryptoTab browser and mine

You receive a percentage from the earnings of each user you have invited, up to the tenth level
Try CryptoTab browser and enjoy extremely fast web surfing combined with powerful mining
Download CryptoTab Browser
It takes less than a minute to download and set up.
Please click on CryptoTab Browser file below after downloading to install the browser.
Open downloads list from above and click on CryptoTab Browser to install it on your computer