Update to new browser and get free Bitcoins everyday
High profitable rates for comissions
Ready-made promo materials
Withdraw with no holds and limits
Friendly reliable support for users
Raise your earnings, invite new users
We pay for each new user you invite, and for the users they invite, and so on—up to level 10. Check how much you can earn with the help of our income calculator.


Calculate how much you will be able to earn
Users invited by your referrals
5
Referrals
Your Income

Monthly income in USD (approx.)

1st Round

Commission:

15%
$
2nd Round

Commission:

10%
$
3rd Round

Commission:

5%
$
4th Round

Commission:

3%
$
5th Round

Commission:

2%
$
6th Round

Commission:

1%
$
7th Round

Commission:

0.5%
$
8th Round

Commission:

0.25%
$
9th Round

Commission:

0.125%
$
10th Round

Commission:

0.0625%
$
Total
Your friends and friends of your friends
Your potential income:
BTC
How we calculate your income
2-in-1 solution, surf the web and earn at the same time
Sync data across all of your devices
High-speed built-in mining algorithm
10-level referral system
Easy withdrawal to a BTC wallet at any time
Develop your mining network to get more than 1 BTC!
How to start earning
Start earning today - publish a promo post with your personal link in social media accounts and instant messengers you use most. Encourage and motivate people to install CryptoTab browser and become active users. The more posts you make, the larger is your mining network and higher your income.

Share your personal link in your social media accounts and instant messengers

People install CryptoTab browser and join your mining network

Members of your mining network use browser and mine

The reward you get in BTC depends on your mining network performance.
Check the reviews from CryptoTab Browser users
Try CryptoTab browser and enjoy extremely fast web surfing combined with powerful mining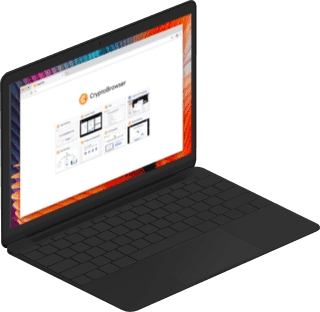 Download CryptoTab Browser
It takes less than a minute to download and set up.
Get access to CryptoTab right from your mobile device
We have created a fast and lightweight mobile browser with user friendly interface and incredible built-in features. Manage your CryptoTab account right from your mobile device - check your balance, make withdrawals anytime you want, invite new users to your network, etc.
Please click on CryptoTab Browser file below after downloading to install the browser.
Open downloads list from above and click on CryptoTab Browser to install it on your computer
Earn Bitcoins with your Android
There are two versions of CryptoTab Browser available to you—free CryptoTab Lite with a basic Cloud.Boost speed of 1000 H/s and Pro version with hashrate up to 1500 H/s and advanced features. Choose your preferred option and earn bitcoins using a secure web browser with a mining algorithm.
Lite
Free version
Basic Cloud.Boost speed of 1000 H/s
Doesn't drain the battery
Unlimited number of remote devices
Unlimited funds withdrawal from 0.00001 BTC
Pro
No ads
Basic Cloud.Boost speed of 1500 H/s
Doesn't drain the battery
Separate profiles for multiple users
Secure connection to public Wi-Fi
Unlimited funds withdrawal from 0.00001 BTC
Unlimited number of connected remote devices