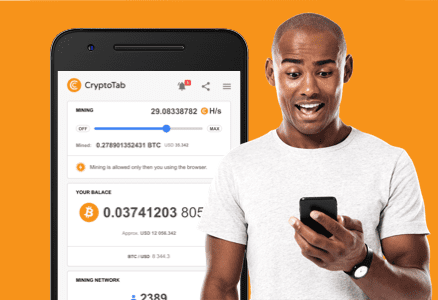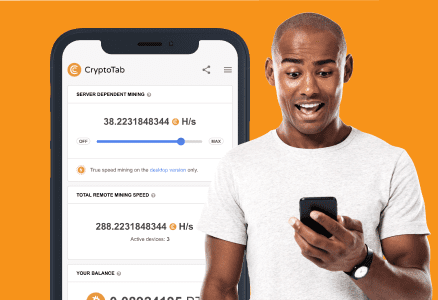 Earn Bitcoins on your Android
Try CryptoTab — the world's first browser with mining feature. More than 10 million users across the globe already earn with CryptoTab Browser!
Get all the benefits of PRO::
Cloud Boost — multiplied speed mining
SDP feature: server-dependent mining, no battery drain
Unlimited number of connected remote devices
Balance update every 10 minutes
Unlimited funds withdrawal from 0.00001 BTC
Separate profiles for multiple users
Secure profile for public Wi-Fi
Technical support
Adaptive newsfeed

It is an incredibly lightweight and fast browser

Built-in mining features
CryptoTab

User-friendly customizable
interface

Support for synchronization on multiple devices
View details
View details
Desktop Version
Why use CryptoTab Browser Mobile?
We have created a fast and lightweight web browser with built-in mining functionality. The familiar user experience of Chrome is combined with extremely high mining speed.
Access to mining features
CryptoTab Browser Mobile has access to mining algorithm that lets you earn Bitcoins just using your mobile device.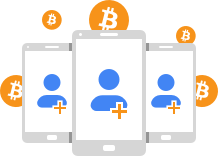 Easily invite friends by your personal link to earn much more
Invite friends and new users to CryptoTab by your personal link and get extra % from your referrals' earnings in Bitcoins. The more referrals you and your friends make, the more you earn! Do your best, be active and agile, and make thousands of USD per month!
Use CryptoTab as your default iOS browser to mine more efficiently
Use CryptoTab as your default Android browser to mine more efficiently
Mining speed increases when your browser is active. Use CryptoTab browser for your everyday activities, visit your favorite sites, watch movies online, and take advantage of maximum mining power.
CryptoTab browser utilizes processor resources more efficiently when the browser window is active. This way, you can make more money.
Manage your CryptoTab account across multiple devices
Easily manage your CryptoTab account from your mobile device — safely withdraw funds from your balance at any time, invite friends to your mining network, etc.
Brief explanation video about CryptoTab
Watch this short promo video to understand more about how CryptoTab works
See recommendations and reviews from users of CryptoTab browser:
Let's assemble a huge mining pool together!
You will get percentage of the revenue from every active user of CryptoTab browser that followed your link to register. Your mining network will spread to encompass up to ten levels of friends. Estimate how large your network can get and how much you will be able to earn by using the income calculator.

Calculate how much you will be able to earn
Number of new users invited by you
5
How many friends they lead
5
Your Friends
Your Income

Monthly income in USD (approx.)

1st Round

15%

$
2nd Round

10%

$
3rd Round

5%

$
4th Round

3%

$
5th Round

2%

$
6th Round

1%

$
7th Round

0.5%

$
8th Round

0.25%

$
9th Round

0.125%

$
10th Round

0.0625%

$
Total
Your friends and friends of your friends
Your potential income:
BTC
How we calculate your income
Two in one: use the browser and earn Bitcoins at the same time
Synchronize your browser data across multiple devices
Built-in algorithm increases your mining speed up to eight times compared with using an extension
10-level referral system
Payouts to your BTC wallet at any time
Earn more than 1 BTC! Build up your network and reap the rewards!
Start right away!
Invite as many new users as you can. You will receive a percentage from the earnings of all users who joined using your personal link.

Share your personal link and motivate people to actively use the CryptoTab browser

People follow your link and install the CryptoTab browser

They start to use CryptoTab browser and mine

You receive a percentage from the earnings of each user you have invited, up to the tenth level
Try out CryptoTab Browser Mobile and enjoy extremely fast web surfing combined with powerful mining
Download
Download
Try the full version of CryptoTab browser for desktop computers and enjoy the speed of powerful mining.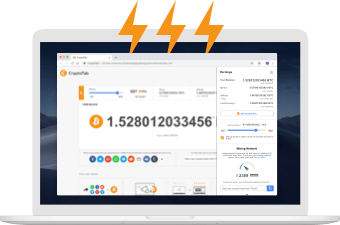 View details