An Innovative Browsing Solution
Download Download CryptoTab to enjoy super fast and secure web surfing. Get an extra income source with no effort or expense.
Download and setup usually takes less than a minute.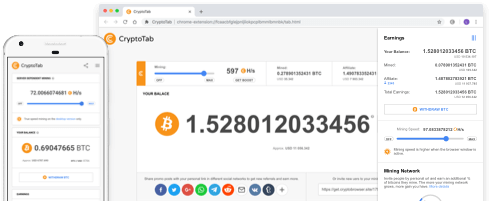 Web Surfing Made Profitable

It is an incredibly lightweight and fast browser

Built-in mining features
CryptoTab

One hand
navigation

User-friendly customizable
interface

Support for synchronization on multiple devices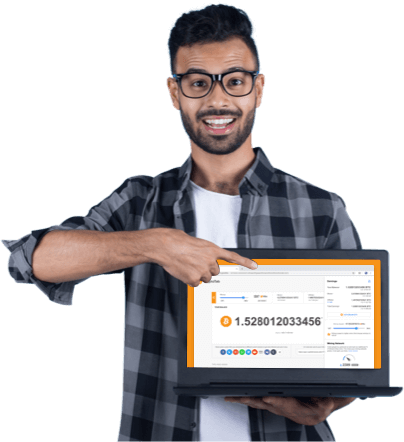 Check the reviews from CryptoTab Browser users
Juan Carlos Castillo
CryptoTab is the best. It is easy and you can earn a lot. They are always paid thumbs up for them
Braulio Bacuilima
The easiest and most real way to win BTC in your free time. Don't wait any longer and invite your friends and enemies and get a passive income for life.
Michael Brand
Now you can get Bitcoins right in your browser! Believe it or not, you' re just 1 click away from unique, online stream of income. Regular and secure payments!!!
Benn Jamin
No doubt, this is the best legitimate platform for earning bitcoins through mining. Withdrawals are prompt and guaranteed!.. plus its all free.
Richard Anthony Smith
Been with CryptoTab Browser for over a year. They have paid me several times. I love it and am going to us it until the last Bitcoin is mined. Pro version is the best. Long live CryptoTab!!!
Paul SV
BI absolutely recommend Crypto Tab for everyone. Do not miss this great opportunity to make a profit with this marvel of technology. With patience and advocacy work and invitation, success is achieved…
Charles Egwuonwu
CryptoTab browser is so amazing as it is mining bitcoin for me any time i turn my system on. I recommend you try it now that everybody is in a lockdown it makes real cash for you.
MojNet Posao
So easy to use, nice interface and it pays!! Enjoy faster browsing and get extra income. Download CryptoTab to enjoy super fast and secure web surfing. Get an extra income source with no effort or expense.
Modz4fun420
Best internet Browser!!! Wish we got this as our default browser for iOS. A browser you actually make money to use it. What's better than that? This browser needs to stay around forever!!!
Jasmin Yasim
Cryptotab is the easiest way to earn Bitcoins. Just change your browser to CryptoTab and receive payments to your balance every 10 minutes. You will get BTC for simply using it, even if just having CryptoTab browser window open. It takes less than 1 minute to start earning.
Roche Cabarrubias
Cryptotab is the newest browser to earn bitcoin, while you only do the things you usually do daily you'll never know you're earning at the same time..is it amazing?!
Chathura Madusanka
Such a great app. It gives the mining opportunity after 10 days as they promised. Love this app. It is better if you can increase the mining rate little higher. Anyway thank you for this free opportunity.
The Strongest
CryptoTab so far from all browsers, l have used, it is the best. The most exciting part, it pays you just for using it. Keep up the good work guys.
Nosayaba Idiaghe
Wonderful browsing experience with CryptoTab Browser. The fact that it's infused with the chromic experience is woah. I use it both on my PC and Mobile. The amazing fact that I get rewarded for daily use is mind blowing. Highly recommended
Bamidele B. Isaac
Honestly, 5 star rating is not enough. This browser is superb. I've stopped using other browser ever since I got to know about this. Its amazing. Gladly join the fold and thank me after.
Pedram Tavakoli
It Works Perfectly, it's very fast, even you can get some satoshis while you use it and withdrawal is On Time, I withdraw my funds many times and it works, great them, if you use it, it will be your favorite browser, it's ought to earn while you search.
Get access to CryptoTab right from your mobile device
We have created a fast and lightweight mobile browser with user friendly interface and incredible built-in features. Manage your CryptoTab account right from your mobile device - check your balance, make withdrawals anytime you want, invite new users to your network, etc.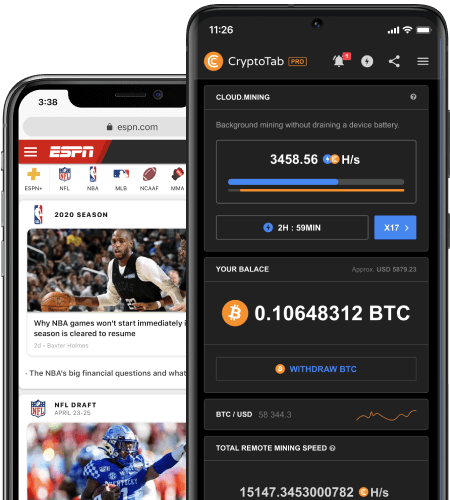 Earn Bitcoins with your Android
There are two versions of CryptoTab Browser available to you—free CryptoTab Lite with a basic Cloud.Boost speed of 1000 H/s and Pro version with hashrate up to 1500 H/s and advanced features. Choose your preferred option and earn bitcoins using a secure web browser with a mining algorithm.
Lite
Free version
Basic Cloud.Boost speed of 1000 H/s
Doesn't drain the battery
Unlimited number of remote devices
Unlimited funds withdrawal from 0.00001 BTC
Pro
No ads
Basic Cloud.Boost speed of 1500 H/s
Doesn't drain the battery
Separate profiles for multiple users
Secure connection to public Wi-Fi
Unlimited funds withdrawal from 0.00001 BTC
Unlimited number of connected remote devices