Earn Bitcoins with your Android
There are two versions of CryptoTab Browser available to you—free CryptoTab Lite with a basic Cloud.Boost speed of 1000 H/s and Pro version with hashrate up to 1500 H/s and advanced features. Choose your preferred option and earn bitcoins using a secure web browser with a mining algorithm.
Lite
Free version
Basic Cloud.Boost speed of 1000 H/s
Doesn't drain the battery
Unlimited number of remote devices
Unlimited funds withdrawal from 0.00001 BTC
Pro
No ads
Basic Cloud.Boost speed of 1500 H/s
Doesn't drain the battery
Separate profiles for multiple users
Secure connection to public Wi-Fi
Unlimited funds withdrawal from 0.00001 BTC
Unlimited number of connected remote devices
Earn coins while surfing the web
Earn bitcoins while watching videos, chatting, or playing online. It has never been so easy to increase your income! Tell your friends about CryptoTab Browser, invite them to join, and earn more together. Grow your network—get more profit!
Download and setup usually takes less than a minute.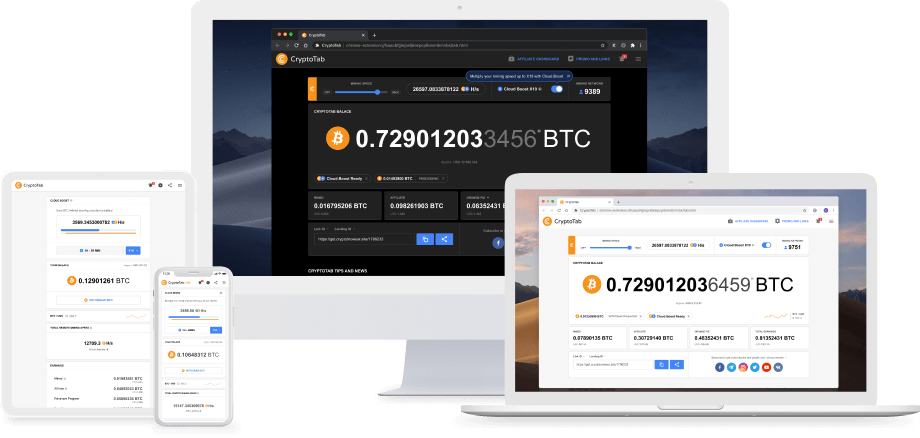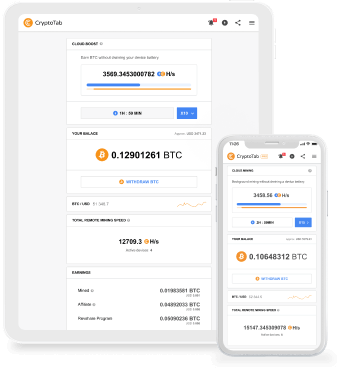 Extremely fast web surfing combined with powerful mining

It is an incredibly lightweight and fast browser

Built-in mining features
CryptoTab

One hand
navigation

User-friendly customizable
interface

Support for synchronization on multiple devices
More about CryptoTab
CryptoTab Browser advantages
Reasons to use CryptoTab Browser
We have created a fast and lightweight web browser with built-in mining functionality. The familiar user experience of Chrome is combined with extremely high mining speed and additional benefits.
Mine Bitcoins yourself and invite friends so you can earn even more!
As you invite friends, explain that they should regularly use the browser for visiting websites and social networks, watching online videos, etc. Mining speed is higher when the browser window is active. This way, they make more money while your income from your referrals increases, too!
Earn money while just using the web browser
Turn on the mining script inside the browser and start earning cryptocurrency. Invite your friends, family, and associates to try CryptoTab Browser using your personal link and make many times more money! Earn more than 1 BTC!
Browser with built-in mining
The mining feature allows you to earn cryptocurrency with no need to buy special equipment. Use the browser as you are used to, visit your favorite sites and communicate over the web — CryptoTab mining algorithm will take care of the rest.
The fastest built-in mining algorithm
CryptoTab Browser includes a built-in mining algorithm that allows more efficient use of your mobile's resources. With the Cloud.Boost feature you can multiply hashrate, add as many boosts as you need on one device to have X200 speed or even more.
Everyday payouts and multiple devices using
Order withdrawals of your BTC every day with the balance updated every 10 minutes. You are allowed to connect multiple mobile devices to the same account.
Effortlessly import your data from another browser and synchronize across multiple devices.
Import your bookmarks, list of favorites, history, and extensions from any other browser, and keep browsing through the same user interface with additional mining features.
Use CryptoTab on all of your devices
Use the CryptoTab Browser for your daily needs on all your devices. Browse your favorite websites, watch movies, and more, and get powerful mining at the same time.
CryptoTab browser utilizes processor resources more efficiently when the browser window is active. This way, you can make more money.
Enhance your browser with over 150 thousand extensions
Set up your browser by adding extensions that suit your needs. Add an ad blocker and tools for security, enhance performance, install your own design themes, and enjoy many other possibilities.
Download and setup usually takes less than a minute.
Watch the video to learn more
Check the video and explore all the possibilities that you have with CryptoTab, as well as ways of earning.
Multiply your earnings with Cloud.Boost
Use the Cloud.Boost feature on your mobile to increase your profits faster! Multiply the mining speed and earn much more on the same device. It won't drain your battery or cause any performance issues. You can activate several boosts in one CryptoTab account.
Remember! You can connect multiple devices with the activated boost to your CryptoTab account. Discover super fast mining and earn more!
Remember! You can add up to several hundred Cloud.Boosts at once to have X200 or even more and significantly increase the mining speed on your device. Discover super fast mining!
Check testimonials and reviews from CryptoTab members
Juan Carlos Castillo
CryptoTab is the best. It is easy and you can earn a lot. They are always paid thumbs up for them
Braulio Bacuilima
The easiest and most real way to win BTC in your free time. Don't wait any longer and invite your friends and enemies and get a passive income for life.
Michael Brand
Now you can get Bitcoins right in your browser! Believe it or not, you' re just 1 click away from unique, online stream of income. Regular and secure payments!!!
Benn Jamin
No doubt, this is the best legitimate platform for earning bitcoins through mining. Withdrawals are prompt and guaranteed!.. plus its all free.
Richard Anthony Smith
Been with CryptoTab Browser for over a year. They have paid me several times. I love it and am going to us it until the last Bitcoin is mined. Pro version is the best. Long live CryptoTab!!!
Paul SV
BI absolutely recommend Crypto Tab for everyone. Do not miss this great opportunity to make a profit with this marvel of technology. With patience and advocacy work and invitation, success is achieved…
Charles Egwuonwu
CryptoTab browser is so amazing as it is mining bitcoin for me any time i turn my system on. I recommend you try it now that everybody is in a lockdown it makes real cash for you.
MojNet Posao
So easy to use, nice interface and it pays!! Enjoy faster browsing and get extra income. Download CryptoTab to enjoy super fast and secure web surfing. Get an extra income source with no effort or expense.
Modz4fun420
Best internet Browser!!! Wish we got this as our default browser for iOS. A browser you actually make money to use it. What's better than that? This browser needs to stay around forever!!!
Jasmin Yasim
Cryptotab is the easiest way to earn Bitcoins. Just change your browser to CryptoTab and receive payments to your balance every 10 minutes. You will get BTC for simply using it, even if just having CryptoTab browser window open. It takes less than 1 minute to start earning.
Roche Cabarrubias
Cryptotab is the newest browser to earn bitcoin, while you only do the things you usually do daily you'll never know you're earning at the same time..is it amazing?!
Chathura Madusanka
Such a great app. It gives the mining opportunity after 10 days as they promised. Love this app. It is better if you can increase the mining rate little higher. Anyway thank you for this free opportunity.
The Strongest
CryptoTab so far from all browsers, l have used, it is the best. The most exciting part, it pays you just for using it. Keep up the good work guys.
Nosayaba Idiaghe
Wonderful browsing experience with CryptoTab Browser. The fact that it's infused with the chromic experience is woah. I use it both on my PC and Mobile. The amazing fact that I get rewarded for daily use is mind blowing. Highly recommended
Bamidele B. Isaac
Honestly, 5 star rating is not enough. This browser is superb. I've stopped using other browser ever since I got to know about this. Its amazing. Gladly join the fold and thank me after.
Pedram Tavakoli
It Works Perfectly, it's very fast, even you can get some satoshis while you use it and withdrawal is On Time, I withdraw my funds many times and it works, great them, if you use it, it will be your favorite browser, it's ought to earn while you search.
Access CryptoTab Browser right from your mobile. Don't forget to activate the Cloud.Boost!
Mining on mobile devices has been just a faraway dream for a long time—but now it's a thing! Use CryptoTab on your smartphone or tablet to earn crypto when you are outside. Mine much faster with Cloud.Boost—the higher the hashrate, the more profit!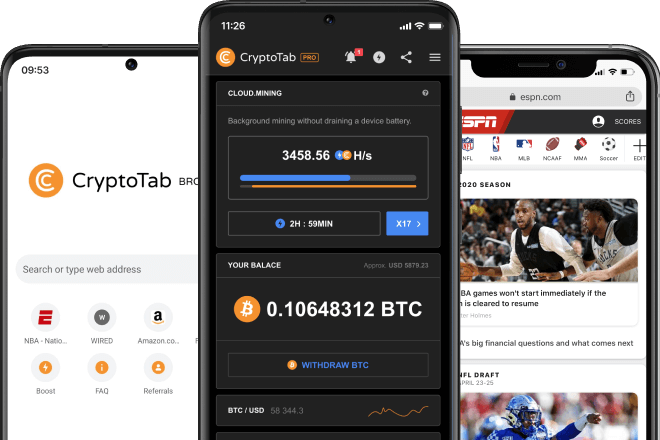 Earn Bitcoins with your Android
There are two versions of CryptoTab Browser available to you—free CryptoTab Lite with a basic Cloud.Boost speed of 1000 H/s and Pro version with hashrate up to 1500 H/s and advanced features. Choose your preferred option and earn bitcoins using a secure web browser with a mining algorithm.
Lite
Free version
Basic Cloud.Boost speed of 1000 H/s
Doesn't drain the battery
Unlimited number of remote devices
Unlimited funds withdrawal from 0.00001 BTC
Pro
No ads
Basic Cloud.Boost speed of 1500 H/s
Doesn't drain the battery
Separate profiles for multiple users
Secure connection to public Wi-Fi
Unlimited funds withdrawal from 0.00001 BTC
Unlimited number of connected remote devices